Nurtured by the life-giving waters of the Yangtze River, Yangzhou, a city in neighboring Jiangsu Province, has prospered for millennia as a center of traditional culture, art, trade and business.
The ancient city is located where the Grand Canal of China, also known as the world's longest and oldest canal, crosses the mighty Yangtze River. The city has inspired countless scholars, writers, poets and artists. Emperors from several dynasties visited the city via the canal from Beijing to take in its splendor.
The best time to enjoy Yangzhou's magic is in spring. Tang Dynasty poet Li Bai (AD 701-762) famously described it as "in the mists and flowers of spring."
Yangzhou's eternal allure has never faded. Innumerable poems have been inspired by the city, which was once inhabited by a wealthy merchant class, especially salt merchants, who utilized their considerable fortune to build magnificent residences, ancestral halls and ornate gardens in an effort to achieve artistic perfection.
Yang Di / SHINE
The ancient, well-preserved classical gardens in Yangzhou, all designed in Jiangnan (regions in the south of the lower reaches of the Yangtze River) style, are undoubtedly cultural treasures.
Historically, the city was home to more than 200 private gardens with intricate landscaping. Now, over 20 classical gardens have been restored and made accessible to the public, with the Slender West Lake, Heyuan Garden and Geyuan Garden being the best-known.
As the masterpiece among all of Yangzhou's classical gardens, Slender West Lake is an organic blend of imperial gardens in the north and private gardens in the south of the Yangtze River. Wealthy salt merchants and renowned academics built the remaining gardens, which are all private, during the Ming (1368-1644) and Qing (1644-1911) dynasties.
Emperor Kangxi and Qianlong of the Qing Dynasty each paid the lake six visits, attesting to its attractiveness.
It is now Yangzhou's best-known landmark, adorned with weeping willows, bridges and pavilions. Slender West Lake is narrower and more winding than Hangzhou's West Lake, after which it is named.
The famous private gardens Heyuan Garden and Geyuan Garden illustrate the transition from imperial to modern preferences and lifestyles in China during the country's revolutionary period. A trip to Heyuan Garden reveals this transformation.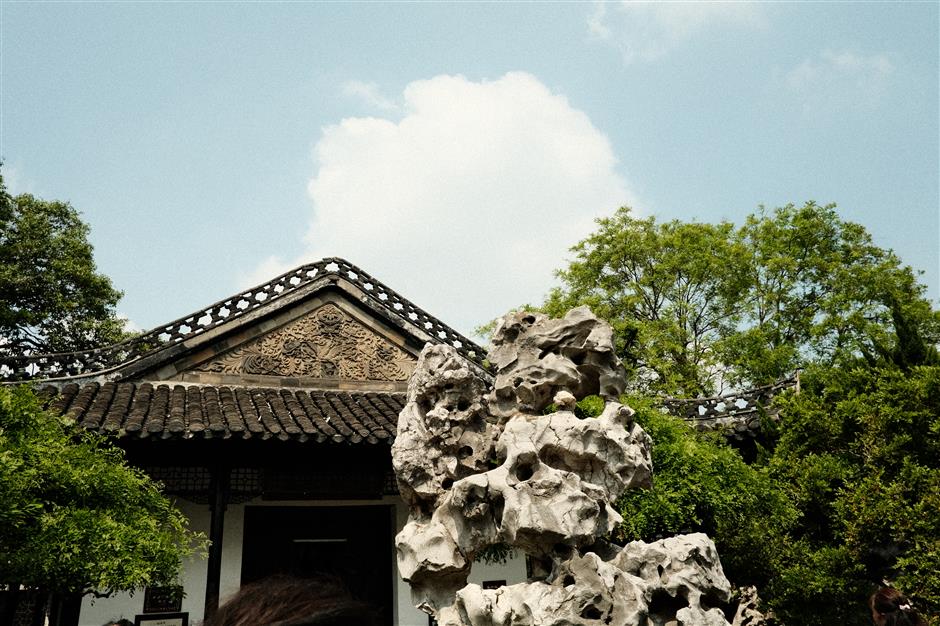 Ye Wen / Ti Gong
Previously owned by He Zhidao, a retired official in the late Qing Dynasty, Heyuan Garden has earned the reputation of being "the first garden of the late Qing Dynasty." With its rock formations, cascades, small lakes and intricate pavilions, the garden is designed to resemble nature.
A two-story, 1,500-meter corridor meanders through Heyuan Garden, and a central pond is adorned with a pavilion where the family could view traditional operas and enjoy the breeze. The French-style shutters, fireplace and ironwork lend a Western touch to the traditional Chinese architecture of the He family's two-story residence.
Geyuan Garden is situated on ancient Dongguan Street, a major thoroughfare in Yangzhou since the Tang Dynasty (AD 618-907). Both extremities of the 1,132-meter-long pedestrian street feature grand gates. This traditional thoroughfare is lined with food stalls, restaurants and shops selling local delicacies and souvenirs.
Stroll down the street in the evening when the tourists have left and explore the nearby labyrinth of narrow streets and alleys (representing a typical "fish bone" design of street and radiating alleys) where you are certain to encounter unexpected adventures.
Yang Di / SHINE
The city, however, is most known for its Huaiyang cuisine, a subset of Jiangsu cuisine that originated in Yangzhou and Huai'an.
In Yangzhou, zaocha (早茶, early breakfast tea) stands out as a cultural and social institution. At an early-morning meal served in traditional teahouses or upscale restaurants, travelers can sample a variety of delectable small dishes, spanning from cold dishes to stir-fries, accompanied by an assortment of Chinese teas.
The Yangzhou-style breakfast is a feast for the senses, with a bewildering assortment of treats and steamed buns served in larger portions than Cantonese breakfast fare.
Sandingbao (三丁包, steamed buns filled with chicken, pork and bamboo), feicui shaomai (翡翠烧麦, unsealed emerald-green dumplings filled with vegetables and pork) and xiehuang tangbao (蟹黄汤包, crab-roe soup bun), a real treat for crab aficionados, are among the must-try dishes.
Yang Di / SHINE
A local proverb states, "In the morning, skin wraps water; in the evening, water wraps skin," referring to the city's two most popular attractions: dumplings and bathing.
The leisure culture of Yangzhou is as ancient as the canals that made it a prosperous trading center. The locals' fondness for the public bathhouse is indicative of their high quality of life and spirit of enjoyment. It is also a social venue, so relationships can be forged while the companions soak in a hot tub together.
The entire bathing process consists of back rubs, scalding, and drumming. Scrubbers in bathhouses are experts at "drumming" on customers' backs, pressing and poking in precisely the right places to generate a "rhythmic" massage.
If you go:
High-speed trains run between Shanghai and Yangzhou daily from 6:30am. The trip takes approximately two hours.