Spring has finally arrived, and the city is in full bloom!
It's the perfect time to embrace the gentle spring breeze and brilliant sunshine and venture out on a spring outing. Why not go camping in a park with family and friends?
Whether you prefer to set up a tent or book a camper van, take a scenic ride among the trees and flowers and savor the breathtaking beauty of the season.
Ti Gong
In Shanghai's Pudong New Area, there are seven perfect camping destinations to explore, offering plenty of ways to enjoy the great outdoors. From popular scenic spots to niche parks, there's something for everyone.
When purchasing a ticket or making an appointment, you need to bring your ID card or passport. Camping is only allowed in designated areas, and visitors are not permitted to have fires.
It's important to note that most parks in Shanghai do not offer rental services for camping gear, so you should bring your own essentials like a tent, mattress and blanket.
It's also recommended to bring additional camping equipment like chairs and lamps, and a cart can be helpful to navigate the large park. Don't forget to pack warm jackets, mosquito repellent, kites, food and any other supplies necessary for a successful camping trip. Remember to clean up afterwards and dispose of all garbage properly.
Activities such as flying kites, playing frisbee, spending time with pets, or simply sitting on the grass and basking in the gentle spring breeze are perfect ways to enjoy the outdoors while camping.
Destination 1: Shanghai Wild Animal Park 上海野生动物园
Shanghai Wild Animal Park is a renowned national-level wildlife zoo spreading across an area of 153 hectares. The zoo is home to more than 200 species of animals from different parts of the world, including some rare and endangered ones that are under the state's special protection.
Ti Gong
Date: March-June, September-November, 9am-4pm; July-August, 9am-6pm; December-February, 9am-3pm
Admission: 165 yuan for adults, 82.5 yuan for students and seniors; 90 yuan for circus performance
Address: 178 Nanliu Highway, Pudong New Area
浦东新区南六公路178号
Destination 2: Binjiang Forest Park Phase II 滨江森林公园二期
Shanghai Binjiang Forest Park is situated at the northernmost edge of the city, where the Huangpu River meets the Yangtze River. It's a perfect spot for those seeking to spend some time surrounded by lush greenery.
The park is well-manicured and features diverse ecological areas, gardens, and wetlands, with walking paths that weave throughout the area.
Ti Gong
Date: Daily, 8am-5pm
Admission: Free (reservation required on the official WeChat account); the designated camping area is available free of charge and an RV campground is also provided in the park.
Address: 1999 Suitang Highway, Pudong New Area
浦东新区随塘公路1999号
Destination3: Qiantan Youcheng Park 前滩友城公园
Qiantan Youcheng Park is situated on the banks of the Huangpu River in Qiantan, Pudong, and features around 900 meters of waterfront landscape along the river.
The park boasts a lovely green passage for slow walks, spanning around 2,000 meters and covering 10,000 square meters. With its gorgeous sights, the park is an excellent spot for visitors to relax, work out, and go camping.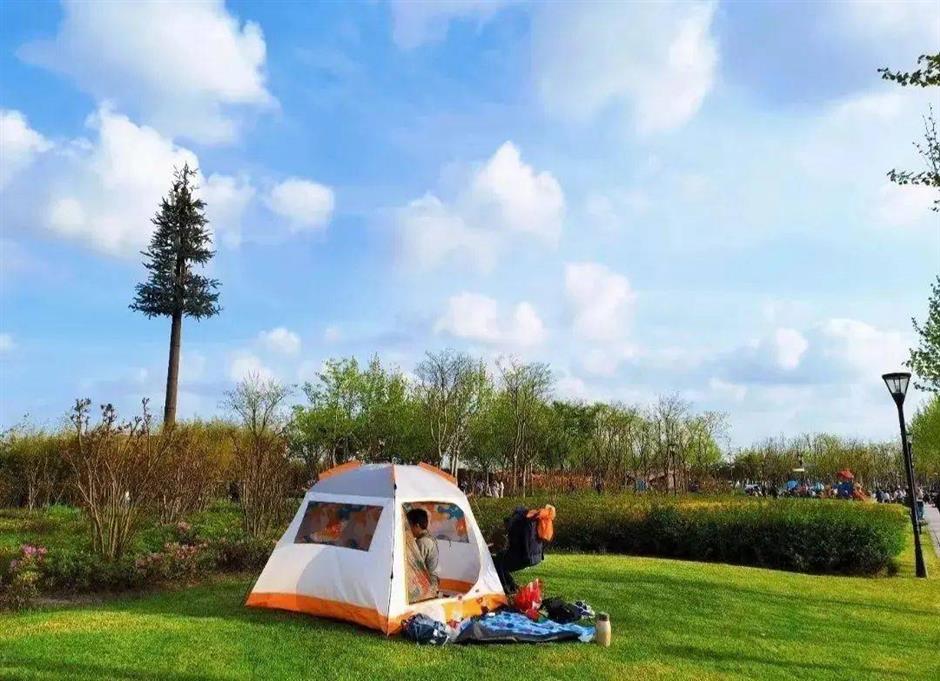 Ti Gong
Date: Daily, 6am-9pm
Admission: Free (camping is also free. The park provides a tent rental service, which costs 80 yuan and includes a tent and a set of food and drinks.)
Address: 1 Qianyao Rd, Pudong New Area
浦东新区前耀路1号
Destination 4: Shanghai Expo Park 上海世博公园
Shanghai Expo Park is a popular riverside park situated on the southern bank of the Huangpu River. It was previously a public activity area and an iconic landscape during the World Expo 2010 Shanghai.
Today, the park offers a wide range of recreational activities such as leisure, sightseeing, fitness and ceremonial performances.
Ti Gong
Date: Daily, 8am-8pm
Admission: Free
Address: 1750 Expo Ave, Pudong New Area
浦东新区世博大道1750号
Destination 5: Century Park 世纪公园
Century Park is the largest park in Shanghai, designed by English architects and featuring a combination of Eastern and Western landscape architecture. Spanning 140 hectares, the park provides visitors with an oasis of greenery and tranquility, making it an ideal spot for sightseeing and camping. It features a concert stage, and visitors can rent tandem bicycles or cycling-cars to travel through the park.
Ti Gong
Date: Daily, 5am-9pm
Admission: Free
Address: 1001 Jinxiu Rd, Pudong New Area
浦东新区锦绣路1001号
Destination 6: Shanghai Expo Cultural Park 上海世博文化公园
The park is located in the core area of Pudong riverside, adjacent to the Huangpu River, covering an area of about 2 square kilometers. The north area of the park alone covers 85 hectares and is mainly composed of tranquil forests, Expo gardens, Time Imprint Avenue, Shen Garden and other scenic areas and attractions.
Ti Gong
Date: Daily, 8:30am-10pm
Admission: Free
Tips: In the camping area, there is a coffee pop-up shop that offers delivery service via drones.
Address: 2700 Expo Ave, Pudong New Area
浦东新区世博大道2700号
Destination 7: Gaodong Ecological Park 高东生态园
Located on the southern side of the Waigaoqiao Free Trade Zone, Gaodong Ecological Park features natural water and plant communities. It offers visitors a countryside space that integrates green communities and hydrophilic ecological environments.
Ti Gong
Date: Daily, 8am-10pm
Admission: Free
Address: 998 Xinyuan Rd, Pudong New Area
浦东新区新园路998号