Join us as we cruise the Huangpu River and Suzhou Creek and take in Shanghai's splendor from a new vantage point. Tour itineraries are outlined here.
Huangpu River cruise tour
The Huangpu River cruise provides an enthralling and scenic trip through the heart of Shanghai.

Immerse yourself in the city's distinctive skyline, which includes the futuristic towers of Pudong and the architectural elegance of the Bund.
There are two cruise routes to choose from.
Route 1
Embarkation point: Jinling Road E. Cruise Wharf
Operating hours: 2:15pm-10pm
Route: Jinling Road E. Wharf – Shiliupu Wharf – Nanpu Bridge – Jiangnan Shipyard – China Art Museum – Lupu Bridge – Jinling Road E. Wharf
Route 2
Option 1:
Embarkation point: Shiliupu No. 1 Cruise Wharf
Operating hours: 11am-9:30pm
Option 2:
Embarkation point: Shiliupu No. 2 Cruise Wharf
Operating hours: 5pm-9:30pm
Route: Shiliupu Wharf – Binjiang Avenue – Shanghai Tower – Shanghai International Convention Center – Oriental Pearl TV Tower – Qinhuangdao Road Wharf (turn around) – North Bund – White Magnolia Plaza – Waibaidu Bridge – Bund – Shiliupu Wharf
How to buy tickets
Tickets are available at Jinling Road E. Cruise Wharf and Shiliupu Cruise Wharf

Alternatively, you can visit Trip.com to purchase tickets online. The website is available in various languages, including English. Search for "Huangpu River Cruise" in the section "Attractions & Tours."
Do noted that tickets for night cruises are more expensive than day trips.
Suzhou Creek cruise tour
The Suzhou Creek cruise opens a window for tourists to savor the history and cultural essence of the city of Shanghai.

There are one-way and loop routes available, ranging from 30 minutes to 90 minutes, that connect five wharves named Waitanyuan (the origin of the Bund), Sihang Warehouse, Changhua Road, Zhongshan Park and Changfeng Park.
The Waibudu Bridge, Broadway Mansions, Zhapu Road Bridge, General Post Office Building, Embankment Building, Sihang Warehouse, Fuxin Flour Mill, M50 art hub, Tian An 1000 Trees, Shanghai Mint Museum and East China University of Political Science and Law are some of the attractions along the routes.
The Waitanyuan Wharf Great Loop Route has introduced music-themed boats, offering an immersive musical experience along Suzhou Creek.
There are two types of cruise boats. "时空之梭" is a boat with panoramic glass windows that can accommodate up to 20 passengers. "上海印象" is an open-top boat with a capacity of 11 passengers.
How to buy tickets
You can purchase tickets via the WeChat mini program of "悠游苏州河 Suzhou Creek Tourism" 48 hours prior to the trip.

Step 1
Click to "Purchase Tickets"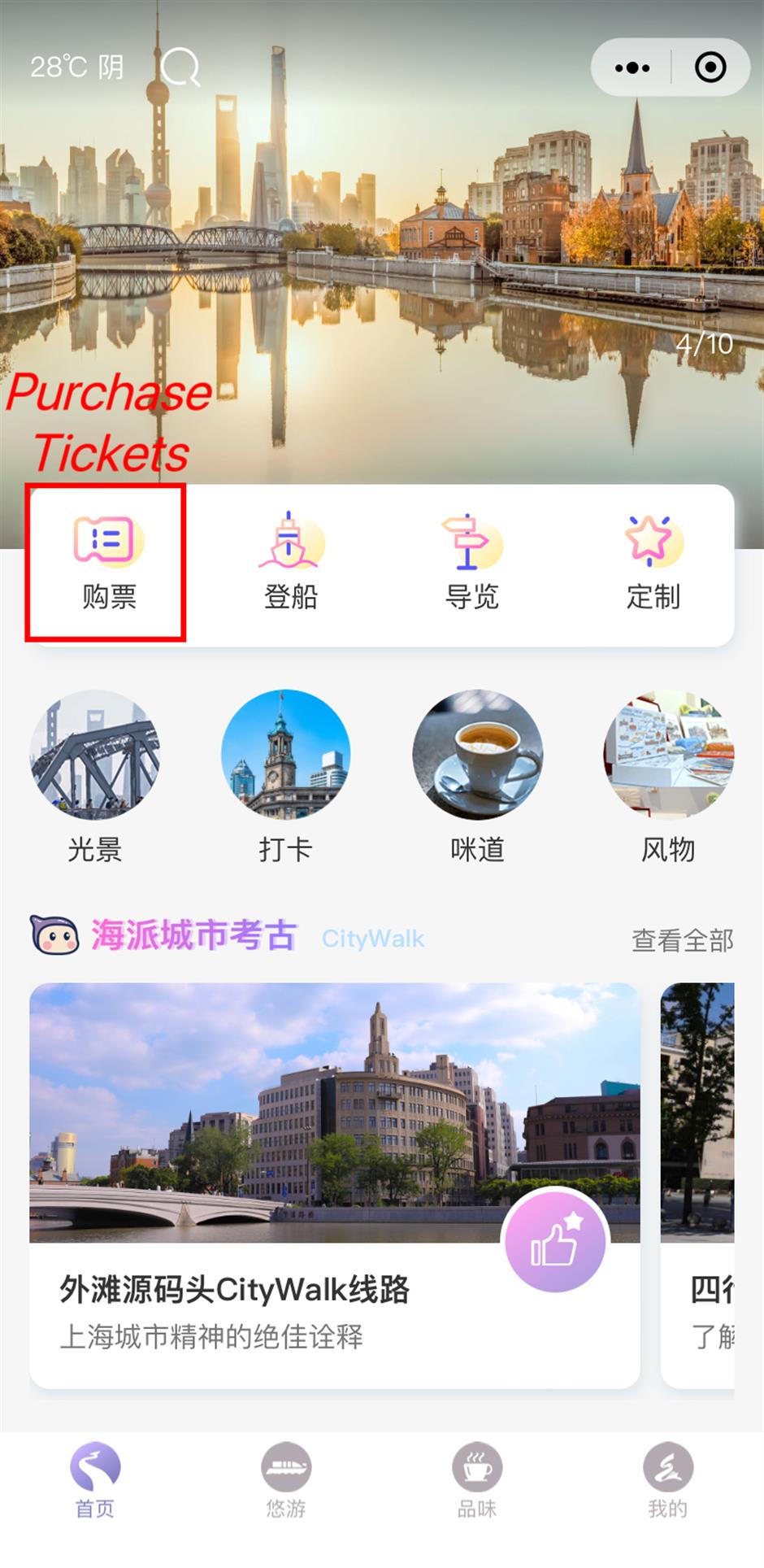 Step 2
Select the departure wharf.

Step 3
Select the date and session.
Step 4
Select the ticket type.
Step 5
Select the number of passengers and provide individual information for each passenger, including their full name, type of ID and ID number.
Step 6
Click "Confirm."