Ti Gong
Want to escape the city hustle and bustle and live an idyllic life? Shanghai suburbs provide ideal options.
Minsu (民宿), Chinese-style rural homestay, has become popular among city dwellers who want to escape the concrete jungle and enjoy nature.
Minsu varies in type and offers more activities than regular hotels.
Here are some licensed homestays in suburban Shanghai.
Lao Gu Cang 老谷仓
Ti Gong
Lao Gu Cang, which translates to The Old Barn, is a farm in Jinze Town, Qingpu District, that was formerly a grain warehouse.
It takes up about 1,500 square meters, and the views of the fields outside the windows are impressive in contrast to the simplicity of the interiors.
Visitors can pick fruits, catch fish, or just have fun rowing. There are bonfire parties when night falls.
Jinze Town, a 3A national tourist destination, may not be as well-known as Zhujiajiao watertown, but its serenity and distinctive charm make a trip there worthwhile.
Old bridges are a major attraction, with seven distinct architectural styles from the Song, Yuan, Ming and Qing eras, earning it the title of "the No. 1 bridge town in Jiangnan."
During the Song Dynasty (960-1279), the town had 42 bridges.
Tel: 5986-5757
Address: 585 Chenxin Road, Jinze Town, Qingpu District
青浦区金泽镇陈新路585号
Jiangnan Lianxiang 江南莲湘
Ti Gong
This is Shanghai's first five-star minsu.
Located in Langxia Town, Jinshan District, it is thus rated for facilities, housing, service, catering, traffic, environment, safety and management.
It showcases Jinshan's intangible cultural heritage and diverse folk traditions.
Visitors can experience the district's intangible cultural heritage, from tubu (homespun cloth) bags and local foods to fan painting and lianxiang dance.
Langxia Lianxiang, a folk dance popular in Shanghai's outskirts, began as a sacrificial ritual more than 100 years ago and has now become a local pastime.
The dancer wields a lianxiang, a stick with copper coins, and colorful streamers.
The minsu retains the characteristics of a typical local residential house, with white walls and black tiles, and uses lotus patterns, giving it its name 莲 (lotus).
Tel: 138-1753-3603
Address: 5010 Langhua Rd, Langxia Town, Jinshan District
金山区廊下镇廊华路5010号
Hou Yuan 逅院
Ti Gong
Ti Gong
The minsu near the Dongtan Wetland Scenic Area in Chongming Island has over 60 mu of ecological garden and courtyard spread over nearly 400 square meters.
It has a teahouse, a barbecue area, a camping lawn, a fishing pond and orchids.
Activities at the homestay are planned according to the seasons.
In the spring, guests can participate in traditional tea rituals while also learning about the island's natural history on a bicycle trip dedicated to birdwatching.
DIY projects with tubu are offered in autumn, while winter is for making rice cakes.
Tel: 189-3048-2212
Address: 726 Yuxi Village, Chenjia Town, Chongming District
崇明区陈家镇裕西村726号
Dongli Zhuyin 东篱竹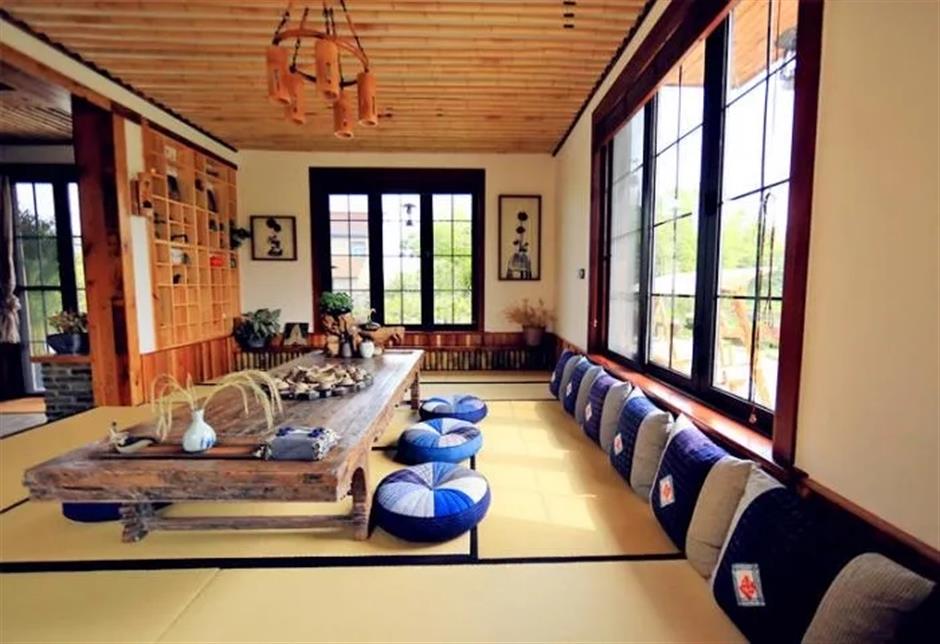 Ti Gong
The 2,800-square-meter minsu takes its name from a poem by the Chinese poet Tao Yuanming (AD 365-427), who lived most of his life in rural isolation while reading, drinking, and writing.
There are rice fields and murmuring rivers all around it. People will fall asleep under starry skies and the sound of frogs croaking.
It is a place where people can feed chickens and ducks, fish, sip tea, enjoy the joy of planting, read books, or simply do nothing.
There is a swimming pool and a fishing pond at the minsu in Fengxian District. Additionally, there are camping and barbecue areas.
A visit to Haiwan National Forest Park is recommended.
Tel: 5716-0552
Address: 1125 Nongzhan Village, Situan Town, Fengxian District
奉贤区四团镇农展村1125号
Suyu 宿於
Ti Gong
Ti Gong
Suyu Inn is located in Lianmin Village of Chuansha Town in the Pudong New Area, 5 kilometers from Shanghai Disney Resort. It was one of the first licensed minsus in Shanghai.
Getting lost in the minsu is a pleasurable experience, as the settlement is intertwined with rice fields and streams, providing gorgeous beauty.
The minsu has 10 villas, each with its own character and theme, such as bakery and ceramics.
Guests can learn to make tea, pizzas, and sweets, as well as porcelain, roast coffee, and weave tubu.
There are various attractions, such as Xinchang Ancient Town and Shanghai Wild Animal Park, close by.
Tel: 173-2132-6409
Address: 287 Lianmin Village, Chuansha Town, Pudong New Area
浦东新区川沙镇连民村287号