Shanghai's nightlife can be experienced to the fullest on the city's intermittent pedestrian streets.
On weekends, several roads are transformed into pedestrian-only zones to accommodate bazaars, street food, exhibitions, performances and other leisurely pursuits.
Fucheng Road, Pudong New Area
浦东新区富城路
Ti Gong
A 230-meter stretch of Fucheng Road in Pudong is converted into a pedestrian strip every weekend this month. It opens from 7pm to 10pm on Fridays and 4pm to 10pm on Saturdays and Sundays.
The Bingo Festival, located between Binjiang Avenue and the Super Brand Mall, and the Pudong Shangri-La hotel, offers celebrity meals, special exhibitions and cultural products, all while overlooking the Huangpu River.
Ti Gong
There are two other "offbeat" markets to explore. A cultural bazaar can be found on Lujiazui Road W., near Super Brand Mall. The Fudu section of Binjiang Avenue serves international cuisine. Dozens of small performance spaces have been set up to provide a platform for young white-collar and hipster artists.
Ti Gong
Ti Gong
The world's largest Disney store, the Lujiazui flagship store, is participating in the bazaar for the first time with its Adventure series merchandise to celebrate Disney's 100th anniversary.
Ti Gong
If you go:
Date: Through July 31, 7am-10pm on Fridays, 4pm-10pm on Saturdays-Sundays

How to get there: Metro Line 2, 14, Lujiazui Station

Kaitian Road, Changning District
长宁区凯田路
Ti Gong
Every weekend through July 30, Kaitian Road is converted into a pedestrian street, hosting a "dream summer night party" with a pink artificial beach, a fair and other activities.
The bazaar features about 50 booths of reputable brands and merchants offering snacks, specially made drinks, sweets and low-alcohol beverages. There are also retail stalls selling niche fashion labels, fragrances and cultural and sporting goods.
Ti Gong
Ti Gong
There are also community events and competitions for beach football, pickleball, yoga and skating, giving young people the chance to socialize and participate in sports.
There are a variety of interactive zones that combine the summertime aspects of pink sand, coconut trees, surfboards and beach chairs.
Visitors can take part in beach music and cocktail parties hosted by bands.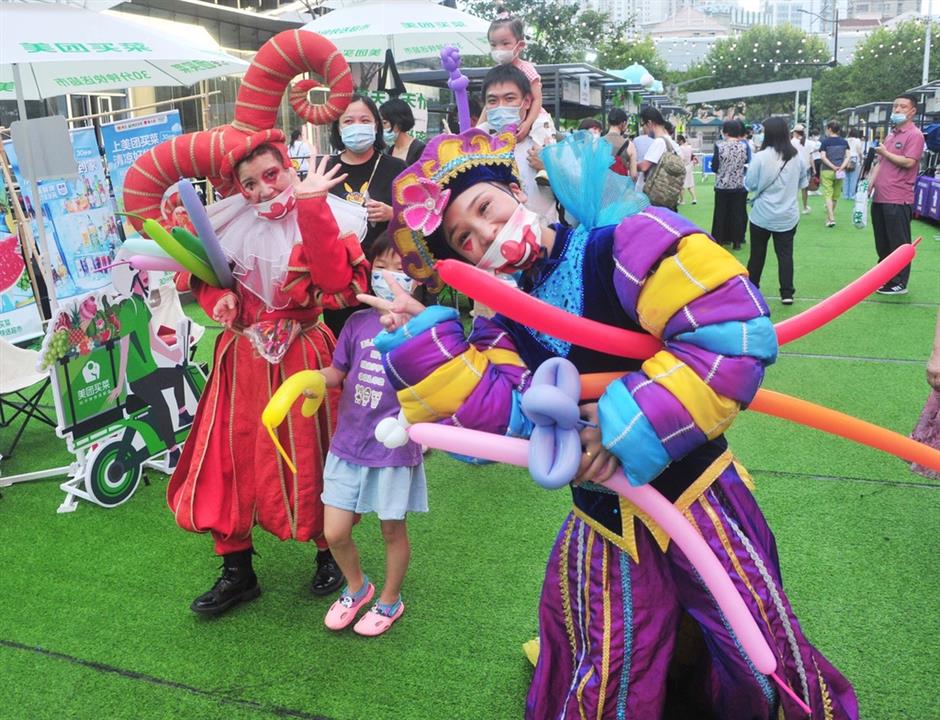 Imaginechina
If you go:
Date: Through July 30, 4pm-9:30pm on Saturdays and Sundays

How to get there: Metro Line 3, 4, 10, Hongqiao Road Station
Daxue Road, Yangpu District
杨浦区大学路
Ti Gong
Daxue Road distinguishes itself from others with modest canteens, teahouses, nail salons and other businesses upstairs from restaurants, bars and fashion stores at street level.
The street, which literally translates as "University Road," is popular with young entrepreneurs and students from nearby Fudan University, Shanghai University of Finance and Economics and the Knowledge Innovative Community.
Ti Gong
Stage performances, markets, interactive games, art spaces, shopping, live streaming and public welfare are just a few of the activities on Daxue Road. These activities showcase a vibrant way of life while also introducing consumers to innovative consumption scenarios.
If you go:
Date: Saturdays and Sundays, national holidays

How to get there: Metro Line 10, Jiangwan Stadium Station
Maoming Road N, Jing'an District
静安区茂名北路
Ti Gong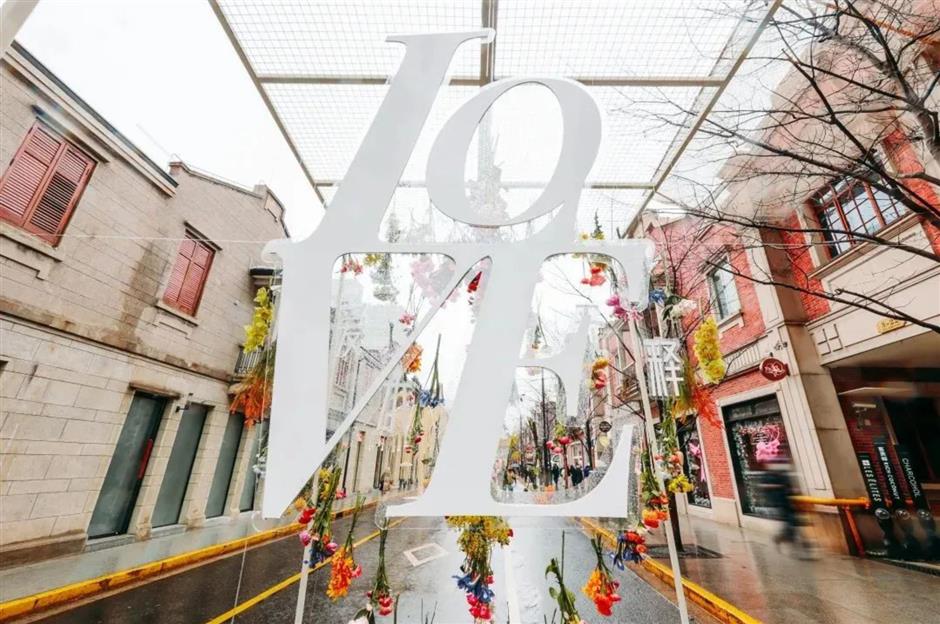 Ti Gong
The weekend pedestrian street of Maoming Road N. attracts both locals and visitors to Zhangyuan, one of Shanghai's best-preserved shikumen (stone-gate) neighborhoods, which has been transformed into a tourism and retail complex.
After years of renovation, a cluster of old Shanghai-style houses are now open to the public, revitalizing the region's night market and attracting more tourists from across the nation.
Ti Gong
Maoming Road N. aims to make Shanghai's central business district more functional and to build a more humanistic community.
In addition to offering residents a public space for leisure and relaxation and a chance to experience Shanghai culture, this temporary pedestrian boulevard serves as a marketing platform for businesses and brands.
Ti Gong
On July 22-23, Lancome will host the "DRAMA Playful Colors" zone here.
Visitors can traverse a red-and-white zebra crossing, take photos at colorful locations, unwind on orange deck chairs shaded by parasols and freely try on Lancome cosmetics.
Ti Gong
If you go:
Date: Midnight on Saturdays till 4am on Mondays

How to get there: Metro Line 2, 12, 13, Nanjing Road W. Station
Fengjing Road, Huangpu District
黄浦区枫泾路
Ti Gong
The BFC Fengjing market spans approximately 360 meters, including the 150-meter-long Fengjing Road and a 210-meter-long stretch of the BFC shopping mall. With the Lujiazui skyline as the backdrop, it offers a breathtaking view of Shanghai.
Imaginechina
The road is turned into a bazaar every weekend until August 27. Visitors can take in the aromas of mint and wood in interactive areas with the "Five Senses Experience" concept.
Imaginechina
The bazaar also consists of more than 70 booths displaying handcrafted items, designer furniture, cultural products, coffee and beverages. It will also host a series of music therapy activities and elegant jazz shows.
Ti Gong
If you go:
Date: 10am-10pm, Saturdays and Sundays

How to get there: Metro Line 10, Yuyuan Garden Station