Spring brings with it many blooming things. And this month some of the city's newly opened restaurants are seeking to introduce an array of zesty, mouthwatering cuisines to celebrate this delightful season.

YEMA 叶马 (iapm mall branch)
YEMA has opened its third branch at the iapm mall in Xuhui District. Specializing in Zhejiang cuisine, it offers fresh ingredients with mild and delicate flavors. Covering an area of 450 square meters, the place features a well-designed inner decor and private dining rooms.

Start with cold dishes like preserved river shrimp, malantou (马兰头 kalimeris) and pine nuts tart, and preserved spiral shells. As one of the signature dishes, the shrimp with homemade Huadiao rice wine has a bouncy texture and rich flavor.
It's high time to try some seasonal vegetables. The fried bamboo shoots and chives topped with sliced preserved meat are a must-try. The slightly pungent chives become softer when they're grilled.
Opening hours: 11am-2pm, 4:30-9pm

Tel: 3356-9996
Address: 5/F, 999 Huaihai Rd M., Xuhui District
徐汇区淮海中路999号5楼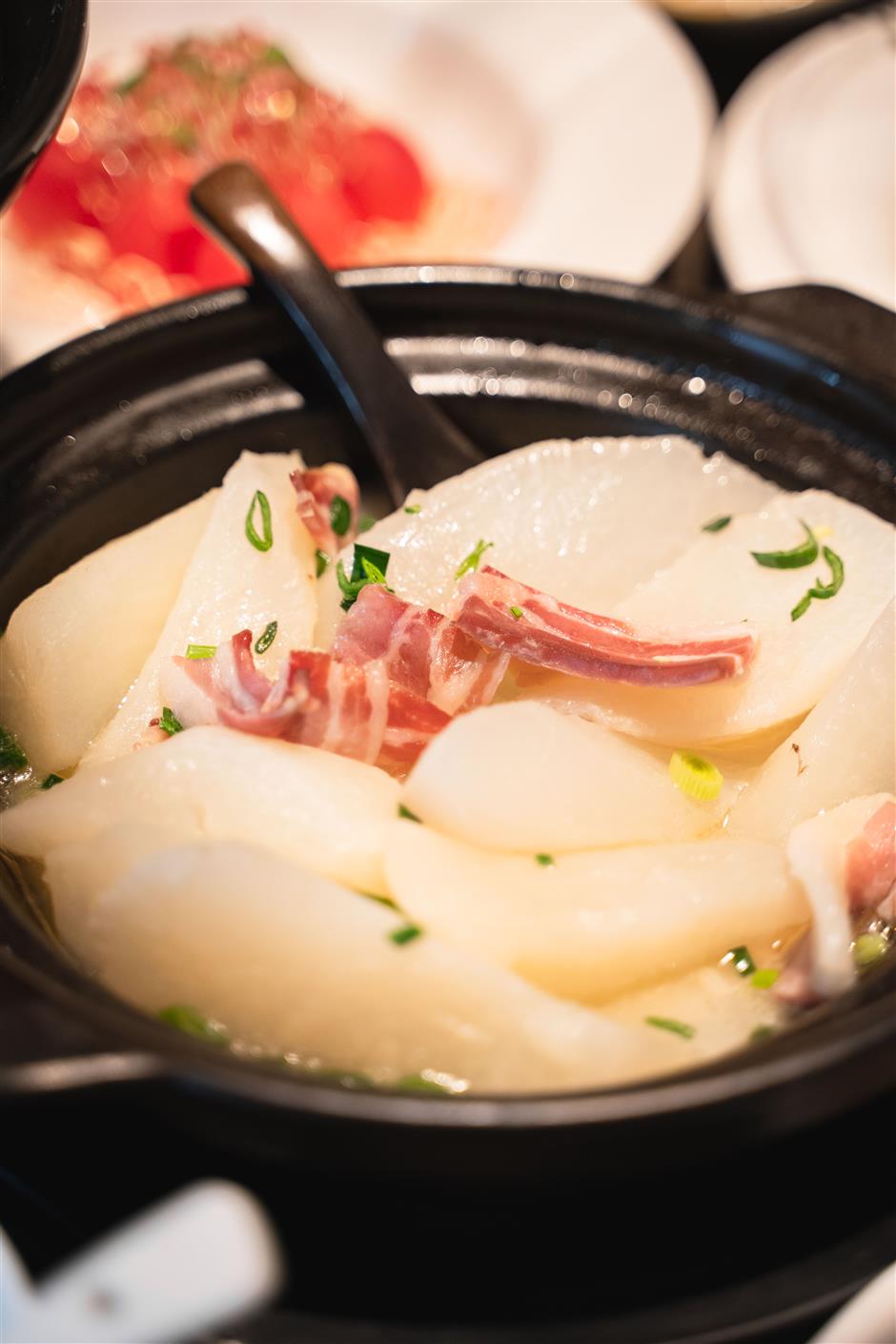 HOUSHAN 后山
At the Suhewan MIXC World, this Cantonese cuisine restaurant adds a bit of "spring luxury."

The top choice is definitely the sliced butter chicken. "We choose a chicken weighing 1.5 kilograms from Longgang area in Guangdong Province," said Liu, the executive chef. "The chicken is soaked in ice-cold water and then hot water three times, making the skin bouncy and flavorful."
In addition, four homemade sauces are available, including options for salty, sour, sweet and spicy flavors.
You can also try the stewed white radish topped with Xuanwei ham, characterized by its rose-red color, delightful flavor and pleasant taste. The broth is cooked with pig bones and ham for more than eight hours, resulting in a savory and rich flavor. The tender radish is so delicious that it's more satisfying than meat.
Opening hours: 11am-2pm, 5-9pm
Tel: 5057-0000
Address: LG168-170, 100 Fujian Rd N., Huangpu District
黄浦区福建南路100号LG168-170
Dim Dou Duk 点都德
This branch of Dim Dou Duk, a Cantonese dim sum brand, brings a new spring menu.

The crispy cheese tomato box is undoubtedly one of the most sought-after dishes on the menu. A thick, juicy slice of tomato is first dipped in egg white and bread crumbs, then expertly fried to achieve the perfect crispy skin. The homemade dressing and almond add a magical twist to the dish.
The steamed pork belly topped with plums also gives you a fresh flavor. The chef trims and prepares the fresh pork belly before dipping it into a secret sauce of various spices. The sour plum adds a burst of refreshing flavor, while ginger helps eliminate any odors
If you're in the mood for something sweet, try the "cloud bun." This fluffy and delightful bun is filled with a delightful mixture of smashed red bean and rich coconut milk.
Opening hours: 11am-10pm
Tel: 5662-3992
Address: LG257-261, 100 Fujian Rd N., Huangpu District
黄浦区福建南路100号LG257-261
ZHU ZHU ZHU 猪猪猪
This newly opened barbecue restaurant offers a new flavor of Iberian pork and fresh grilled eel fish.

A must-try on the menu is the signature Iberian pork platter, which features an assortment of pork belly, plum meat and neck meat. The plum meat boasts an ideal balance of fat and lean, ensuring that it is both tender and flavorful without being overly greasy. Meanwhile, the neck meat offers a slightly bouncy texture.
For seafood lovers, the grilled eel is served with homemade chili powder and sauce, wrapped in seaweed and perilla leaves, which is fragrant and relieves greasy.
Opening hours: 11am-10pm
Tel: 5042-1211
Address: L801, 500 Zhangyang Rd, Pudong New Area
浦东新区张杨路500号L801