What better way to spend a leisurely afternoon than to indulge in delicious bites and tea, presented on tiered stands?
From the quintessential English afternoon tea to more affordable options that offer the authentic experience of a destination, we round up the delectable high tea sets from across Shanghai, to satisfy both your taste buds and your eyes.
Harrods Tea Room
Courtesy of Harrods Tea Room
Harrods has been welcoming guests to enjoy its afternoon tea since 1911 at its Knightsbridge store in London. A century has passed and this tradition has found its way to Shanghai.
Treat yourself to a quintessential English afternoon tea experience at Harrods Tea Room inside the historic Cha House at the edge of HKRI Taikoo Hui.
The current summer afternoon tea menu, available till August 18, features a flavorful spread of treats, and every detail has been meticulously planned to ensure the ultimate experience.
The set is 488 yuan (US$68) per person or 888 yuan for two, plus a 10 percent service charge. It includes two amuse bouche, four savory sandwiches, three sweets and one limited edition Cha-Lie bear dessert, plus coffee or tea per person.
Hours: 11:30am-5pm (summer menu until August 18)

Tel: 6227-6857
Address: 1/F, 420 Weihai Road, Jing'an District
静安区威海路420号1楼
The Langham, Shanghai, Xintiandi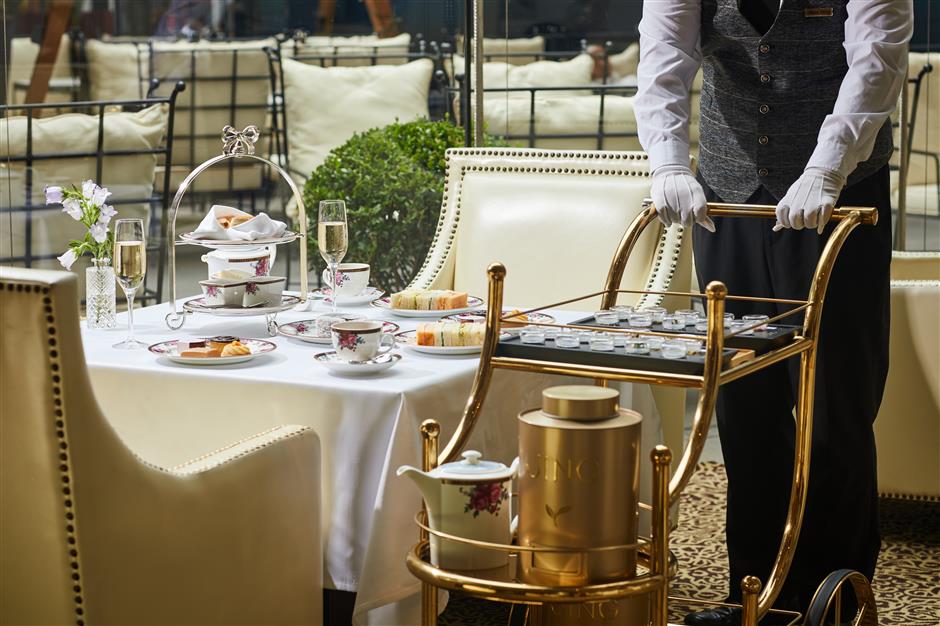 Courtesy of The Langham, Shanghai, Xintiandi
The Langham, London has been serving traditional British afternoon tea since 1865 and this elegant tradition remains with Langham hotels around the world. Inspired by the pastries of the moment in the United Kingdom, Andrew Gravett, executive pastry chef of The Langham, London, has come to Shanghai this summer in collaboration with chef Dickson Ye, executive pastry chef from The Langham, Xintiandi, Shanghai, to present the traditional British afternoon tea.
Besides its deliciousness, it will be served in the traditional British style. Start with a selection of Jing tea with finger sandwiches, then switch to cutlery for desserts, followed by the classic raisin scones with Cornish clotted cream and the chef's homemade rose raspberry jam. The tea set is priced at 588 yuan for two, with a choice of coffee or Jing tea per guest.
Hours: 2pm-5:30pm (until September 30)

Tel: 2330-2420
Address: 1/F, 99 Madang Road, Huangpu District
黄浦区马当路99号1楼
The Middle House
Courtesy of The Middle House
Café Gray Deluxe at The Middle House offers an afternoon tea set that transfuses the charms of summer into the exquisite bites. Kalamansi Curd Glass is fully infused with a refreshing fruit aroma, while the Gazpacho is creatively presented with crisps.
The extensive sweet and savory delicacies bring a distinct touch to your summer afternoon. Each afternoon tea set includes two drinks of your choice: coffee, tea or juice, for 528 yuan for two persons. Or you can upgrade to two glasses of Charles-Heidsieck champagne for another 198 yuan.
Hours: 2:30pm-5pm

Tel: 3216-8088

Address: 3/F, 366 Shimen No. 1 Road, Jing'an District
静安区石门一路366号3楼
Tearoom by EHB
Courtesy of Tearoom by EHB
Tearoom by EHB is inspired by chef and founder Esben Holmboe Bang's love and respect for Chinese tea culture. It is a place with a natural aesthetic that still embodies refined detail. Here diners can explore a curated menu of high-end speciality teas selected by tea sommeliers, with a wide range of exquisite snacks.
The tea set starts with Tahiti vanilla cheese, fermented honey and lavender tart, Miso caramel chocolate, apricot seed and lychee mousse, to Alaskan king crab roll and Rossini caviar, to Snow Dragon A3 wagyu tartare. The whole journey is creative and exquisite with a Nordic twist.
The set costs 688 yuan for one and 1,288 yuan for two. It comes with a welcome drink and a choice of tea or coffee. If you fancy more than the set, there are other choices on the menu: Rossini caviar (1,288 yuan/50g) and AX Covap Ibericos Ham (368 yuan/50g).
Hours: Wednesdays-Sundays, 2pm-5pm; 5:30pm-1am

Tel: 6445-8695
Address: 1/F, 11 Dongping Road, Xuhui District
徐汇区东平路11号1楼
Waldorf Astoria Shanghai on the Bund
Courtesy of Waldorf Astoria Shanghai
Discover the allure of the classic Red Velvet Trolley afternoon tea enriched with history at Salon de Ville, decked out with clusters of traditional sofa seatings and china cabinets, inside the Waldorf Astoria Club heritage building.
Featuring the iconic 20th-century New York – Waldorf's Red Velvet Cake and 12 captivating variations, this culinary experience redefines tradition with cart-to-table service.
Indulge in a selection of the finest premium teas, paired perfectly with warm scones and an assortment of jams. Let your senses be enchanted by an array of exquisite pastries and cakes, meticulously crafted to captivate both the eye and palate.
The afternoon set for two is priced at 788 yuan for the weekdays and 888 yuan over the weekend.
Hours: 2pm-6pm (until October 1)

Tel: 6322-9988
Address: Lobby, 2 Zhongshan Road E1, Huangpu District
黄浦区中山东一路2号大堂
Ginger Modern Asian Bistro
Courtesy of Ginger Modern Asian Bistro
Ginger Modern Asian Bistro will pamper your taste buds with a delectable tea spread, which offers a selection of savoury and sweet treats with creative twists.
Start with the savouries and tick into bites like green curry tart, smoked salmon scones, beef and shiso sushi, mini Hanoi rolls. Balance savoury flavors with sweet creations like the Flourless ginger cake, flourless pandan cupcake, coconut meringue, lemon tart, white miso chocolate mousse and macarons.
The 128-yuan set is served with a pot of tea or a cup of coffee.
Hours: 2pm-4:30pm (Mondays-Fridays); 2:30pm-4pm (weekends)

Tel: 3406-0599
Address: 91 Xingguo Road, Xuhui District
徐汇区兴国路91号
The Portman Ritz-Carlton, Shanghai
Courtesy of The Portman Ritz-Carlton, Shanghai
The Ritz Bar & Lounge at The Portman Ritz-Carlton has launched a "Peach of Mine" afternoon tea set, presenting customers with a peach-themed journey to satisfy their taste buds.
It is a parade of savories and sweets that are all made of juicy peaches, including peach foie gras, blue crab tart with peach jelly, Pandan oolong peach opera, jasmine peach gel tart, and lychee peach mousse cake.
These fragrant, sweet, plump peaches are guaranteed to give you an amazing afternoon for 588 yuan with two cups of coffee, tea or specialty iced peach tea.
It is recommended to check for special offers on the WeChat shop (ID: rcportmanshanghai).
Hours: 2:30pm-5:30pm (until August 31)

Tel: 6279-8888
Address: 1/F, 1376 Nanjing Road W., Jing'an District
静安区南京西路1376号1楼
Pudong Shangri-La, Shanghai
Courtesy of Pudong Shangri-La, Shanghai
Collaborating with CONDENSé Paris, Pudong Shangri-La, Shanghai, presents a unique joint afternoon tea – "A Journey of Scent" in the Lobby Lounge. Diners will be immersed in a world of fragrance and flavor, tasting a series of exquisite delicacies, such as citrus lemon tart, jasmine peach jam with vanilla chantilly and lychee mousse with sour plum jam.
The tea set priced at 588 yuan including two cups of coffee or Western tea and a perfume gift box (seven sample-sized bottles), will bring perfume lovers and diners a sense of luxury through seeing, feeling, inhaling, and tasting.
Hours: 2pm-6pm (untill August 31)

Tel: 2828-6888
Address: 1/F, 33 Fucheng Road, Pudong New Area
浦东新区富城路33号1楼
Hilton Shanghai Hongqiao
Courtesy of Hilton Shanghai Hongqiao
The Hilton Shanghai Hongqiao presents an ice cream-themed afternoon tea set showcasing sweet delights infused with summer-time flavors. The tea set is designed to celebrate the season of revival, when gardens sprout and quickly reach the peak of their beauty.
Amazingly, the specialty of this afternoon tea is that all the treats are presented on wooden plates, bringing a natural and rustic feel.
This set is only available during this promotional period, priced at 288 yuan for two. Diners are also encouraged to enjoy special privileges via the hotel official WeChat store (HongqiaoHilton).
Hours: 2pm-5pm (untill August 31)

Tel: 3323-6571
Address: 1116 Hongsong Road E., Minhang District
闵行区红松东路1116号